Our Veterinarians
The Island Animal Hospital team of skilled veterinarians welcomes you to our practice, proudly serving the St. Simons Island area. At Island Animal Hospital, it is our daily privilege to provide quality vet care to your cherished pet, with compassion and competence. We hope to ensure a positive impact on our patients, pet owners and the local community.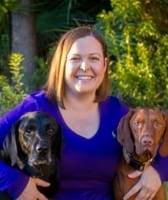 Dr. Jaclyn Luckstone
Managing Veterinarian
Two years after joining the IAH team, Dr. Jackie Luckstone became the managing veterinarian at IAH in 2015. Under her leadership, the doctors and staff have embraced the objective of being a progressive veterinary practice. In 2019 she led the team in Fear-Free training and certification, thereby placing an emphasis on the emotional well-being of all pets during their veterinary experience.
Dr. Luckstone graduated from Ross University School of Veterinary Medicine in 2009 and she completed her clinical year at North Carolina State University. She enjoys small animal internal medicine, pain management, and holistic medicine including acupuncture and laser therapy. Dr. Luckstone became a Certified Veterinary Acupuncturist in August of 2018. She also has a special interest in caring for birds and exotic pets.
Outside of the office, her hobbies include photography, baking, and spending time with her dogs Maddy and Watson.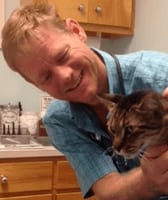 Dr. Karl Hill
Associate Veterinarian
Dr. Hill became an associate veterinarian at IAH in 2017. He graduated from the University of Georgia College of Veterinary Medicine in 1996. Since that time, he has worked across the country as both a small animal veterinarian and a zoo veterinarian. Working with diverse species is both a challenge and a joy for Dr. Hill, and he is happy to see dogs and cats as well as birds and exotic pets. He likes developing long-term relationships with pet parents at Island Animal Hospital.
Dr. Hill and his wife Tiffani, and son Matthew have put down roots in Georgia, which is Dr. Hill's childhood home state. Currently, they have 3 cats and 2 rabbits in their pet family. Tiffani is the director of Glynn County Animal Control, making the compassionate care of pets a family mission!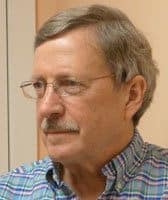 Dr. Jan G. Rossiter
IAH Relief Veterinarian
Jan Rossiter has had the pleasure of providing veterinary care to local pets since 1984. Recently he stepped down from his position to retire. He leaves a talented group of veterinarians and veterinary staff whose mission is to provide progressive and compassionate medical care for companion animals and their families. Dr. Rossiter, a native of Iowa, graduated in 1973 from Iowa State University. Before moving to Georgia, Dr. Rossiter practiced in Schenectady, New York; Barre, Vermont; Nantucket Island, Massachusetts; and Plymouth, Massachusetts.
Jan and his wife Cathy have two sons, Luke and Ian, a daughter- in- law Katie, and a grandson Connor. His pet family includes two St. Simons Island cats and a Chihuahua. We look forward to Dr. Rossiter sharing his many years of experience to consult and train the Island Animal Hospital staff while he enjoys the flexibility of retirement. His interests in veterinary medicine include diagnostic medicine, clinical pathology, dentistry, ultrasound, cardiology and working with wildlife.